ACEO seascape in gouache
It's that time of year when artists all over blogland get their palettes primed and ready to go for the next 6 weeks when we join in my favourite arty challenge - Summer of Colour.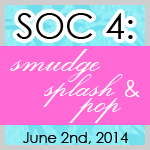 This year it's all about Smudge, Splash & Pop - each week Kristin will give us colour prompts with two main colours and then a third colour for us to add a smudge, splash or pop of!
This is the first week and the colour prompt this week was:
Aqua, Yellow and a smudge, splash or pop of hot pink
I've got quite a lot on artwise at the moment with another couple of local exhibitions and I'm in the middle of a commissioned dog portrait so I wanted to be able to do something that meant I could join in this challenge but that wouldn't eat into too much of my time. This is especially important right now because my art time is currently restricted to puppy naps!
I'd forgotten just how much work looking after a puppy is. She wakes up any time from 4am and once she's awake, we're all awake! Then it's the constant reading of ever so subtle puppy body language that might give some indication of wanting to 'go potty'. Skye doesn't believe in giving much warning so literally every time she stands up I take her outside (our carpets thank me for it!). That's all well and good but doesn't do much for artistic concentration. So while she sleeps, much as I'd like to sleep too, I paint instead.
Still, look at that face - how could I resist and she won't be a puppy forever!
Skye - sometimes it's exhausting being a puppy (and a puppy parent!)
So, I decided I'd stick with the landscapes I've been doing a lot of recently and do some little ACEO landscapes keeping to the colours in the prompt. These colours said sunset at the beach to me and so that's what I did.