ACEO landscape in gouache
Week 2 of Summer of Colour and the colour prompt this week was:
Coral, Teal and a smudge, splash or pop of white
I want to keep my theme of ACEO landscapes going so found an instagram photo I'd taken of a field of sheep and then painted pretty much an entirely different picture using the colours in the prompt instead.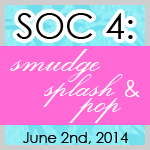 In other news, the second of the three local exhibitions that I'm taking part in started yesterday. It runs for three evenings and is a mix of art and crafts from local artists and crafty folk and a percentage of the profits goes to the Scottish National Blood Transfusion Service and Caithness General Hospital.
Also last week, I received the cheque for the small canvas I sold at Latheron Art Show (with no stamp on the envelope so I had to pay £1.53 to the Post Office for the privilege of getting it!). It came in very handy to pay for the return postage of my seal painting which unfortunately didn't sell at the Association of Animal Artist's Annual Exhibition in Frodsham last month. Hey ho. What art gives, art takes away!
Anyway, I've almost finished the pet portrait commission that I've been working on during doggy nap times. Here's a sneaky peek. Pop back on Friday if you'd like to see the completed piece.
A sneaky peek of a Pet Portrait in Progress