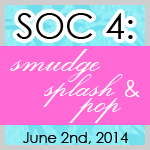 We're on week 3 of Summer of Colour already and this week's colour prompts are:
Lavender, grey and a pop of plum
During a brief moment when I actually had mobile internet access on my phone during the long drive back from Glasow (where we'd had a very short overnight stay to see
Justin Currie
(lead singer of 90s band Del Amitri) perform a solo gig) I saw the colours for this week and immediately thought of mountains and heather for my submission to SOC14. It may have been inspired by the mountainous route we were on at the time but whatever the reason I was happy that the colours worked well in another ACEO landscape!
This is a very, very loose interpretation of a view from the top of Glen Loth which I've recently painted in impasto acrylics but which I haven't yet posted on the blog (pop back on Friday if you want to see that one!)
In case you're interested the gig was brilliant. We saw him do a Del Amitri tour in January in the Hydro (a massive stadium) but this time it was in a converted church called
Oran Mor
- a tiny, intimate venue where he seemed much more at ease having banter with the crowd and he was amazing.
My friend, Audrey, kindly looked after Lily the cat, who was home alone while we took the three dogs to Glasgow with us. S's brother dog-sat our 3 along with his own westie while we went out for a lovely meal at vegan restaurant The 78 and then off to the gig - it was a great wee night and well worth the 13 hour round trip to get there!!
I'll be linking up to
Kristin's blog
for SOC14 Week 3 as well as the
Flickr
page and
Facebook
page so do be sure to visit one of those venues to see the wide variety of arty crafty things everyone else comes up with using this week's colour prompts.