'Vishuddha (Throat Chakra)' - mini canvas 3x3 inches (7.5cm x 7.5cm)
So, my favourite art challenge – the summer of color is back for the 5th year and this will be the 4th year I've taken part in it. I'd been looking forward to taking part this year but wasn't sure what I would do that could fit only a couple of colours as most of my art these days uses every colour in my paint supply!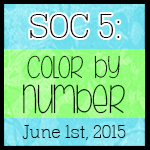 As fate would have it, I was at a reiki share day a couple of weeks ago and we were learning more about
chakras
. My reiki master had a light bulb moment and said she could see me painting my miniature canvasses of each chakra symbol using my textured impasto style and, as there is a little shop at the spa she runs, she kindly offered to stock them for sale as she felt they would be popular with the clients who come to the spa for reiki treatments.
close up of the symbol
Chakras are the energy centres of our bodies that energy flows through. We have them all over but there are 7 main chakras which run down the middle of our bodies from our crown down to our base chakra which is located around and about our tail bone.
Each one represents different physical, mental and emotional issues and has its own symbol and colour associated with it. Often if you feel out of sorts or have physical aches and pains it's because there is an energy blockage in one or more of your chakras.
Even if you are reading this with eyebrow raised at a skeptical angle, thinking it's a load of new age hokum, it's worth having a reiki treatment and chakra realignment done because it helps to release blocked energy and even if you don't believe in it as long as you are open to the possibilities then it's a wonderfully relaxing and energising treatment that can only leave you feeling better.
Because the colours for week 1 are two shades of blue and one shade of green, I'm showing the chakra paintings out of order. The blue one is the Throat Chakra (Vishuddha) which is represented by the colour blue.
I'd already finished this when the colours were chosen and I didn't want to add green to it just for the sake of the challenge so I've used some artistic licence and photographed it on a green background!! Technically there are more than two shades of blue here but only because I added white to lighten each one by degrees so I did start off only using two different blues - cerulean and primary!
Without the green!
So that's SOC Week 1 and because the chakra colours basically follow the colours of the rainbow I'm hopeful that I'll be able to use each of the chakra paintings in the challenge, with one to spare!
I'm also linking up with Paint Party Friday and will look forward to seeing what everyone else has come up with that is taking part in Soc 15.